On August 3, 2023, the U.S. Department of Health & Human Services ("HHS"), the Department of Labor, and the Department of Treasury (collectively, the "Departments") temporarily suspended the federal Independent Dispute Resolution ("IDR") process immediately following the issuance of a decision by the U.S. District Court for the Eastern District of Texas (the "Court") that vacated certain regulations and guidance the Departments issued to implement the No Surprises Act ("NSA").
The Court's ruling in Texas Medical Association, et al. v. HHS ("TMA IV")—which addressed claim "batching" and the $350 administrative fee required to initiate the IDR process—represents the Department's third significant loss in legal challenges against the Departments' implementation of the NSA's IDR process that providers, facilities, air ambulance providers, and plans may use to determine the correct payment amounts for certain out-of-network services. On August 11, 2023, the Departments issued a "Frequently Asked Questions" guidance document to detail their intended approach to address the administrative fee. The Departments plan to issue additional updates on the NSA IDR process after further analysis of the TMA IV decision.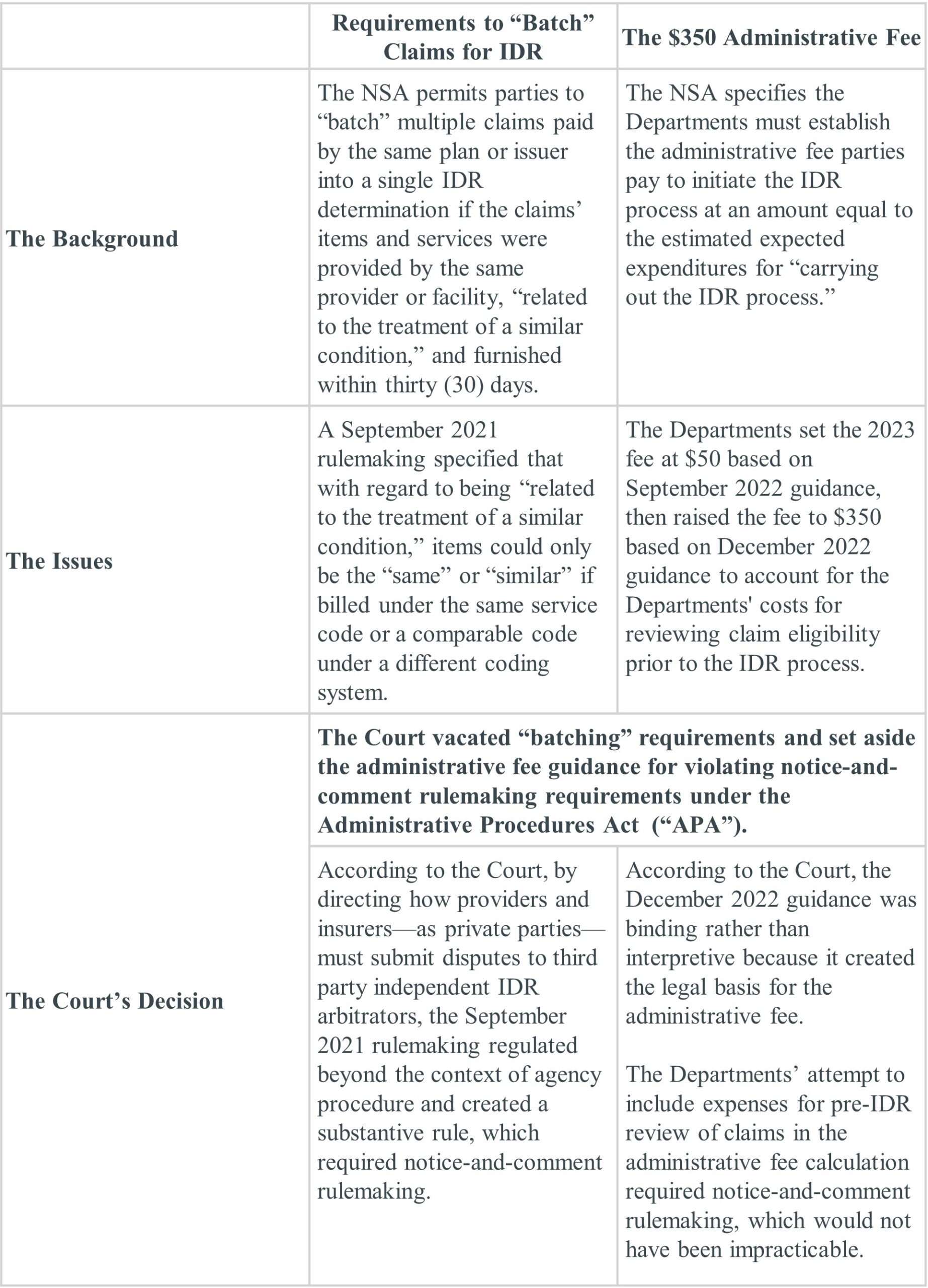 Key Considerations
As noted in the TMA IV decision, the barriers to batching and high administrative fee deterred parties from initiating the IDR process. With TMA IV, previous case law vacating plan-friendly regulations addressing the factors IDR entities must consider to determine payment amounts, and recent HHS reports indicating high percentages of success by IDR-initiating parties—which are mainly providers and facilities—in IDR determinations, the volume of IDR challenges may continue to increase.
Increases in IDR challenges may shift plans' strategies with regard to initial payments, impact how providers and facilities approach the IDR process and consider network participation and lead the Departments—reportedly experiencing 14 times greater IDR claims than expected—to continue seeking additional methods to address costs as rulemaking continues.
The Departments' removal of a proposed IDR rule from the list of rules ready for White House review (4 days after having been added to the list) demonstrates the immediate impacts the TMA IV decision has had on NSA-related rulemaking. Industry should expect further delays to rulemaking on the still-significant number of remaining NSA-related issues.
Next Steps for Stakeholders
Keep on the lookout for updates from the Departments and more information from Epstein Becker Green.
Related Documents
---
Hailey Genaw, a Summer Associate (not admitted to the practice of law) in Epstein Becker Green's Washington, DC, office, contributed to the preparation of this blog post.