Following up on its July 2017 guidance on the same topic (discussed in a previous blog post), FDA issued a proposed rule on November 15, 2018 to amend Agency regulations to allow Institutional Review Boards ("IRBs") to waive or alter certain informed consent elements (or in some cases, waive the informed consent requirement altogether) for FDA-regulated, minimal risk clinical investigations ("Proposed Rule").
What Clinical Investigations are Affected?
Importantly, the only clinical investigations affected by the Proposed Rule are those that are FDA-regulated and "minimal risk" – a term defined by FDA to mean that "the probability and magnitude of harm or discomfort anticipated in the research are not greater in and of themselves than those ordinarily encountered in daily l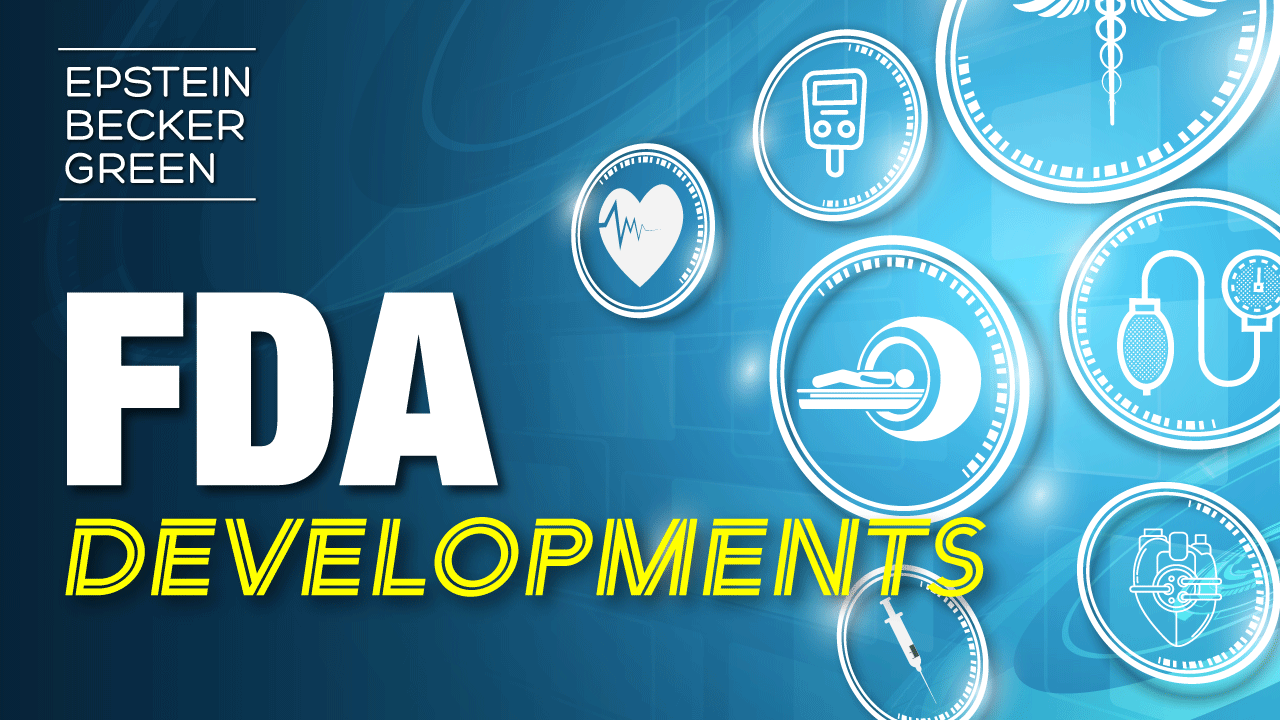 ife or during the performance of routine physical or psychological examinations or tests."
Such minimal risk investigations may be approved by IRBs through an expedited review procedure.  Although FDA has designated specific categories of research that may be reviewed through this procedure, the designated activities are not automatically considered minimal risk just because they are on FDA's list.  Rather, inclusion on the list simply means that the research activity is eligible for expedited review where the specific circumstances of the research involve no more than minimal risk.  Still, the designated research categories shed light on the types of studies that may be deemed minimal risk, including: research on a drug or device where an investigational new drug application ("IND") or investigational device exemption ("IDE"), respectively, is not required; prospective collection of biological specimens for research purposes by noninvasive means (e.g., hair and nail clippings); collection of data from voice, video, digital, or image recordings made for research purposes; and research on individual or group characteristics or behavior, or research employing survey, interview, oral history, focus group, program evaluation, human factors evaluation, or quality assurance methodologies.
What is the Intent of the Proposed Rule?
Sometimes it's not practicable for sponsors to obtain informed consent when conducting clinical investigations.  As current FDA regulations offer only very narrow exceptions to the informed consent requirements – for life threatening situations or emergency research –  the inability of an investigator to obtain subject informed consent would have previously brought potentially valuable investigations to a halt.  However, the Proposed Rule seeks to provide increased flexibility with respect to FDA's informed consent requirements for certain minimal risk studies.
In particular, the Proposed Rule implements changes made to the Federal Food, Drug, and Cosmetic Act ("FD&C Act") by the 2016 21st Century Cures Act ("Cures Act").  These changes authorize FDA to allow for exceptions to its standard informed consent requirements where the proposed clinical trial poses no more than minimal risk to the human subject and includes appropriate safeguards to protect the rights, safety, and welfare of the subject.  Specifically, under the Proposed Rule, FDA would allow IRBs to waive or alter informed consent requirements if the IRB finds and documents that:
the clinical investigation involves no more than minimal risk to the subjects (see "minimal risk" definition above);
the waiver or alteration will not adversely affect the rights and welfare of the subjects (in making this determination, the IRB may consider, for example, whether the waiver or alteration has the potential to negatively affect the subjects' well-being or whether the subject population in general would likely object to a waiver or alteration being granted for the research in question);
the clinical investigation could not practicably be carried out without the waiver or alteration (FDA defines "practicable" to mean (i) recruitment of consenting subjects does not bias the science and the science is no less rigorous as a result of restricting it to consenting subjects, or (ii) the research is not unduly delayed by restricting it to consenting subjects); and
whenever appropriate, the subjects will be provided with additional pertinent information after participation.
As noted above, FDA already issued guidance for immediate implementation in July 2017 that states that FDA does not intend to object to IRBs waiving or altering informed consent requirements, as described in the guidance, for certain minimal risk clinical investigations (see our previous blog post).  However, FDA intends to withdraw this guidance after the Proposed Rule takes effect.
What are the Envisioned Benefits?
If finalized, the Proposed Rule would largely harmonize FDA regulations with the Common Rule, which governs human subject research conducted or supported by HHS and other federal agencies.  The Common Rule has included provisions allowing waiver of informed consent for minimal risk research since it was first issued in 1991.  We note, however, that January 2017 revisions to the Common Rule added a fifth criterion to the four listed above related to IRB waiver or alteration of informed consent (this fifth criterion requires that "if the research involves using identifiable private information or identifiable biospecimens, the research could not practicably be carried out without using such information or biospecimens in an identifiable format").  FDA is not proposing to adopt this fifth criterion at this time.
Beyond harmonization, the Proposed Rule should pave the way for certain minimal risk clinical investigations to proceed that otherwise would have never gotten off the ground, offering greater opportunities for sponsors and investigators to further their product development efforts and make positive contributions to the public health.
Comments on the Proposed Rule must be submitted to the docket by January 14, 2019.
Tags:
21st Century Cures Act
,
Bonnie Scott
,
clinical investigations
,
Common Rule
,
Cures Act
,
FD&C Act
,
FDA
,
Food and Drug Administration
,
Food Drug and Cosmetics Act
,
informed consent
,
institutional review boards
,
IRB
,
Proposed Rule