FDA published the long awaited draft guidance on wellness products last Friday. The guidance is a positive step forward for industry in that it proposes that certain general wellness products will not be subject to FDA regulation.
The draft guidance clarifies that FDA does not intend to enforce its regulations against products that are "low risk" and are intended to:
Maintain or encourage health without reference to a disease or condition (e.g. weight, fitness, stress) or
Help users live well with or reduce risks of chronic conditions, where it is well accepted that a healthy lifestyle may reduce the risk or impact of such a condition.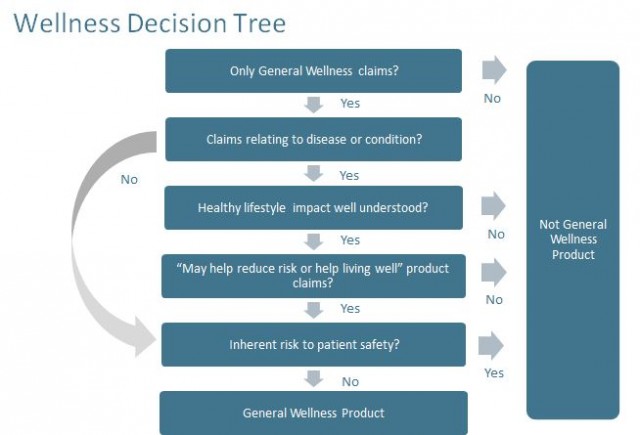 This is big news and paves the way for continued innovation, particularly in the wearable devices and mhealth markets where many of the products would fall within the guidance's definition of low risk --  not invasive, not raising biocompatibility questions or novel usability issues and to involving features with inherent patient safety risks (e.g. lasers, radiation, implants).
There are some limitations to this guidance, however.  First, it only applies to Center for Device and Radiological Health (CDRH).  It does not apply to combination products or products regulated by other FDA Centers.  Second, manufacturers will need to closely manage their marketing claims to ensure they do not step over the line and make clinical outcome claims that would subject them to FDA oversight.  Lastly, developers should be aware that being considered a general wellness product, rather than a device, will affect their ability to be covered under traditional reimbursement and third party payment models. There may be opportunities as novel payment approaches emerge as a result of the Affordable Care Act and health reform but companies will need to carefully navigate this guidance with payor's weariness about reimbursement without evidence of directly improving clinical outcomes.
There will, undoubtedly, be questions about how much evidence is needed to be considered "well accepted" and other issues as the draft guidance is further analyzed. But, overall, the wellness guidance provides much of the clarity industry has been seeking and is a positive development for patients who live with chronic conditions.
Tags:
Affordable Care Act
,
CDRH
,
Center for Device and Radiological Health
,
digital health
,
FDA
,
FDA regulatory
,
Food and Drug Administration
,
Health IT
,
Health Reform
,
low risk device
,
medical device
,
mHealth
,
mobile apps
,
mobile medical apps
,
Wearable Devices
,
wellness